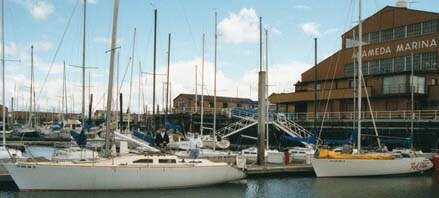 That's our baby!
On the water - FINALLY! - with her sistership Red Stripe (following us, As It Should Be ; ) ).
We never thought that the day would come. Check out our story of finding and gettin' her up here, and the troubles she's decided to give us. For the curious, there're many more pics, and a fair amount of self-indulgent narrative history, on those pages.
We love her! Wouldn't trade her for the world! She's a great boat, and quite a find. Even with all of our New Owner Foibles and her teething pains, we know we're lucky to have stumbled into the opportunity to grab her, and look forward to learning how to sail her to the glory she deserves.
If you're a proud Bushwhacker crewmember and forgot your docktime, or would like to be part of our team, check out the calendar (always subject to change, of course), read about our crew philosophy and drop us a line!