The Purchase
Well... it's been an adventure, and we've owned her less than a year. We're slowly making her ours... but it's been an uphill battle!
First, there was finding her. We spent months - six? eight? - looking for the Perfect Boat. Surfin' the web, lurking in marinas. Readin' classifieds. Couldn't narrow down a decision at all; we were all over the map. We looked at boats from 24' to 35+'. From pure racers to racer cruisers, to cruisers. All over the Bay Area and West Coast. Price ranges varying by orders of magnitude. We frustrated the hell out of all our friends, as we bounced totally inconsistent, totally unpredictable, "what do you think of <the flavor of the minute>?" emails off of them.
Then, one day, an email came in: "Hey, guys, check this link." There she was, on-line, in a brokerage in LA. She looked good enough to make a trip down. Jumped in the car and tore off to Newport Beach. We walked into the yard... and knew the minute we laid eyes on her.
Perfect.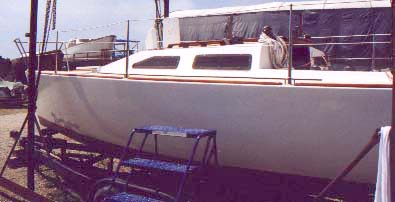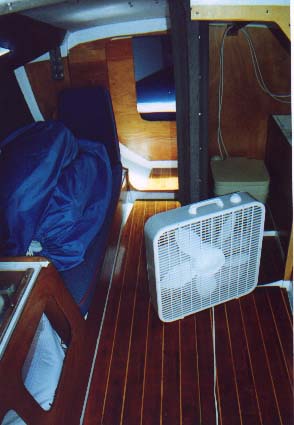 Coulda put any price on her. A check was quickly written.
And we were Boat Owners.
Next up: Crap! Gotta get her up here!