The Delivery
So, we bought a boat. We left her in LA for a few weeks, as the former owner had a few more projects to finish, including several coats of hard epoxy on the bottom and a touch-up of the teak.
Then, one Thursday, we get a call: "Hey, kids, the boat's done, and I've nearly come to blows with the marina owner. The boat's gotta be out of the yard by Sunday!"
Crap.
Phone calls quickly ensued. We quickly found a temporary spot to park her. An email came in from an old (elementary school!) friend living in Australia: "I'm gonna be in LA for a couple of weeks. We should get together." Little did he know what he was in for. Knowing he's always up for an adventure, I bounced back immediately: "Hey, Todd! How about driving to SF, following a boat?" What a good sport, he agreed. Bright and early one morning, I tore off to LA in my 20-year-old Full Size Jeep (the "Canyonero!")- here goes nothin'!
Took a full day to pack the boat and a rented pickup truck with all the Boat Crap the volume of which only fellow owners can really know.
Then it was time to learn how to tow -- what better way to learn to tow a trailer - for the first time ever! - than with your brand new, 4000-pound boat behind a 1981 truck?
There were a few challenges. Like discovering the trailer was wired wrong - the brakes went on FULL when the headlights were on, and the brake lights went on when I stepped on the brake... (and, YES, it was the trailer wiring, not my wiring of the new brake controller!) I bet there were a few people who wondered why I was flashing my lights at them as I tried to slow.
And, of course, dragging a boat over the dreaded Grapevine. But, the Canyonero did great, and the boat did great, and I learned relatively quickly how to get down the highway. Didn't clip a single curb, during any of the MANY gas stops, I have to say!
But, I was never - never - happier to be anywhere in my life than at the top of the Grapevine. Anyone who's driven over that pass knows the graveyard of overheated cars and carnage. Hell, I've lost two engines there. But, the Canyonero made it - with Bushwhacker in tow. Kinda warm, and kinda slow, but it was all downhill from here: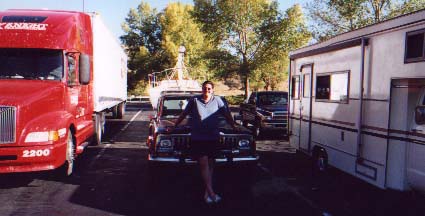 OK, maybe I was almost happier to get to the temporary storage lot in Alameda: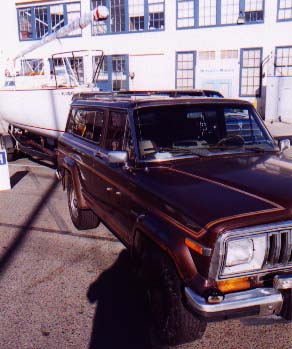 She's here! Time for some prep work, and our first disaster...